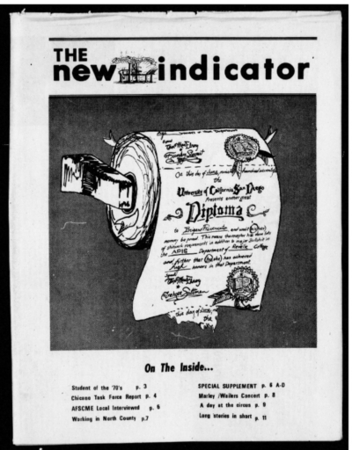 The New Indicator newspaper traces its origins to the first campus newspaper at the University of California, San Diego (UCSD). Although starting life as the official campus newspaper in 1965, within a few years it became a diverse, non-sectarian left radical news collective, serving the UCSD community and beyond. The last print edition was published in 2003. We started our online version of the newspaper in 2015. Switching to an online format allows us to dodge the high costs of keeping a print newspaper alive. On April 21, 2019 we became the official house organ of IWW Local 13 – San Diego GMB. The production staff of newindicator.org is now an IWW union shop.
For many years we also published The Disorientation Manual. We are embarking upon a project to make the Disorientation Manual available online, and to update and improve it. To see digitized versions of several of the past editions, and new or updated articles as well, go to
If you are interested in helping us to produce the new online edition of The Disorientation Manual, please contact us at info@newindicator.org. We invite you to pick an article you like in a past edition and update it or to write new material to submit.
Many of our back issues of The New Indicator newspaper are digitized and available through the UCSD Library Special Collections. We published under a number of different names before we settled in on The New Indicator, in 1976. Click on the titles to see some back issues. Many more back issues are not yet included in this digitized online collection, but may be viewed at Special Collections. Most have been recorded onto microfiche. Hard copies are also housed there.
New Indicator
Natty Dread
North Star
Crazy Times
Indicator
The Revelle Times
Sandscript
Closely allied publications, with some overlapping staff, include these:
Many of our  back issues are also housed at the Wisconsin Historical Society's vast collection of newspapers. Browse at  newspapers.
An article on the early history of the paper can be found at pages 8 and 9 of the October 1976 edition of the The New Indicator.
We invite you to help us make new history. Send us your events, news, commentary articles about UCSD, and about the world it's a part of.
Please contact us at info@newindicator.org.
New Indicator Collective Staff:
Joe, Emma, Rosa, Lucy, Elizabeth, Peter, Mikhail, Alexandra, Nestor, Abbie, Cohn, Emiliano, Patrice, Herbert, and Noam.
The New Indicator used to be recognized as an official campus newspaper of UCSD. We haven't asked for that status for many years now. The views expressed in The New Indicator do not represent those of the UC Regents, the UC President or the UCSD Chancellor. It makes us cringe to think of them agreeing with us about much.
The New Indicator is a collectively produced university-community newspaper. Articles and letters are welcomed.
As a non-sectarian newspaper, The New Indicator publishes articles from groups/individuals with different views and positions on issues. Accordingly, articles printed with a byline do not necessarily represent the views and positions of the New Indicator Collective and all collective members are not necessarily in agreement with the positions expressed. Articles published without a byline do represent the views and positions of the New Indicator Collective.
All material published is copyright by the New Indicator Collective and may not be republished for profit without permission. Permission for republication for educational and nonprofit use is granted and encouraged.
3 thoughts on "
About Us

"