Monthly Archives: November 2018

The Migrant and Refugee Solidarity Coalition in San Diego made an International Call to Action for a Day of Solidarity with the Refugee Caravan and Central American Exodus. Dozens of organizations around our region and worldwide endorsed the Call to Action and demonstrations were held in eleven cities across the USA on November 25, 2018. Emergency support for the temporary shelters in Tijuana and in San Diego is being mobilized. 
Information about making donations to support the temporary refugee shelters: 
Cities which participated in the November 25 Day of Solidarity with Central American Refugees
NOV

25

Sun 4:30 PM

 · 1,221 guests
NOV

25

Sun 5:30 PM EST

 · 266 guests
NOV

25

Sun 3 PM MST

 · 1,223 guests
NOV

25

Sun 3 PM MST

 · 402 guests
NOV

25

Sun 5 PM EST

 · 373 guests
NOV

25

Sun 3 PM CST

 · 3,220 guests
NOV

25

Sun 2 PM CST

 · 724 guests
NOV

25

Sun 2 PM EST

 · 1,432 guests
NOV

25

Fruitvale Village, 34th Ave, Oakland
 
Over 600 people demonstrated solidarity on the San Diego side of the border wall and demanded demilitarization of our border communities and respect for the human rights of refugees and immigrants. Simultaneously thousands of people protested on the Tijuana side of the border wall, demanding that the Trump regime obey international and U.S. refugee law and stop blocking asylum seekers from entering the USA.
International Call to Action for the Refugee Caravan and Central American Exodus
As thousands of our refugee relatives—children, elders, brothers, sisters, LGBTQI+ siblings and people with disabilities—make their way to the border, we are calling for an International Day of Action in Solidarity with the Caravan and Exodus from Central America on Sunday, November 25th, 2018. We, the San Diego Migrant and Refugee Solidarity Coalition, composed of migrant rights and social justice groups, invite individuals and organizations across the country and globe to organize demonstrations in their cities, and if they have the capacity, to join our rally and march to the border.  
We call for an action on November 25th to commemorate the anniversary of the 2017 Honduran election stolen by the US government-backed, right-wing military dictator Juan Orlando Hernández (JOH). We are demonstrating on this day to acknowledge and draw attention to the current social and political crises driving the exodus from Central America. We understand that these crises—drug wars, military coups, destruction of indigenous lands for the benefit of corporations, and environmental catastrophe in the region—are all symptoms of US foreign policy, corporate profiteering and war-making.
Moreover, we see that the Trump administration is creating a warlike atmosphere against the caravan. It should be clear that they are not just acting with the support of a cabinet of white supremacists and a majority GOP in the Senate but are also emboldened by the last few decades of bipartisan militarization of the border, mass raids, expansion of for-profit detention centers, and mass deportations—with more than 2.5 million migrants under Obama and Trump alone. Further, these policies are a continuation of a long history of anti-Indigenous colonial violence and genocide.
These attacks have been complemented by decades of pushback against the migrants' rights movement and years of terror against all who participated in the mega marches for Migrant's Rights back in 2006 and since. We must continue to build and consolidate our gains no matter how large or small.
Legal precedent, "civility," regard for life: the administration has no respect for any of it. The only thing that it responds to is resistance from below.
           The US government, as with all governments, and the people of the United States have a choice: We can reject the humanity of the refugees and buy into the racist anti-migrant rhetoric of the Administration and the media. OR, we can do what humans have an obligation to do and what the US government owes the people of Central America: insist on allowing all the refugees the right to seek asylum!
Demands
Respect for the right of asylum for all members of the Central American Exodus. Stop the profiling and criminalization of refugees; lift the executive order limiting access to asylum.

Process all asylum claims made at Ports of Entry with expediency. We reject Custom and Border Protection's claim that Port of Entries lack capacity to let in refugees. We also reject the shift away from decades of international asylum agreements that allow for requests to be made anywhere on the border.

The US government must publicly acknowledge a) its role in Honduran Coup in 2009, b) that the Honduran government is a US supported dictatorship, and c) recognize the political and social crises throughout Central America as caused by US foreign policy.

Call for international solidarity beyond the US and Mexico. The United Nations and Red Cross must also recognize the Humanitarian crisis at the US/Mexico Border.

We demand freedom for incarcerated migrants now and free movement for asylum seekers. No incarceration of migrants in shelters or for-profit detention centers.

No impunity for governments that violate international asylum agreements and processes. Prosecute officials who violate the human right to seek asylum in any country of their preference.
Endorsing Organizations:
Activist San Diego
Af3irm SD
AIM OTIPEMISIWAK
American Friends Service Committee
American Federation of Teachers, Local 1931
American Indian Movement Southern California
Anakbayan San Diego
Alíanza de Salvadoreños Retornados
Asamblea de Solidaridad con México – País Valencià
Binational Conference Organizing Committee
Binational Conference on Border Issues Organizing Committee
Border Angels, San Diego
Brown Beret National Organization and all Texas Brown Berets
Caravan Support Network
California for Progress
Campus Antifascist Network
CARECEN
Centro Cultural De la Raza
Center for Interdisciplinary Environmental Justice
Center for the Advanced Study of American Institutions and Social Movements
Committee Opposed to Militarism and the Draft
Coalición Fronteriza de Centro Americanxs
Colectivo Zapatista
Colectivo Somos Migrantes – España
Colectivo Ollin Calli Tijuana
Defend Boyle Heights
Democratic Autonomous Federation
Democratic Socialists of America- San Diego Chapter
Democrat Socialists of America
Employee Rights Center  (ERC)
Enclave Caracol
Enclave Caracol TJ
Enlace
Food Not Bombs
Freedom Road Socialist Organization
Halifax in Solidarity with the Migrant Caravan
Honduro-Canada Solidarity Community
Human Rights Alliance for Child Refugees and Families
Immigrant Justice League
International Socialist Organization
Industrial Workers of the World (IWW) San Diego Local 13
Indivisible (Normal Heights/Hillcrest, San Diego)
Jews for Palestinian Right of Return
John Brown Prisoner Solidarity Project
La Diáspora Hondureña
Labor for Palestine
Las Luchonas
Leonard Peltier Defense Committee
Legalization 4 All
Mark Brazil
Migrante San Diego
Movimiento Cosecha
Mujeres en Resistencia Chicago
Mujeres en Resistencia- San Diego
New Indicator Collective – newindicator.org
No Space for Hate
Otay Mesa Detention Resistance
Our Revolution SoCal OC
Palestinian Youth Movement-San Diego
Party For Socialism and Liberation
PSL Salt Lake – Party for Socialism and Liberation
People over Profits- SD
Pueblo Sin Fronteras
QTPOC colectivo
Raices sin Fronteras
Racial Justice Coalition
San Diego Committee Against Police Brutality
San Diego County Central Committee of the Peace and Freedom Party
SAN DIEGO BORDER DREAMERS
San Diego Workers World Party
San Diego Ground Zero Players
School of the Americas Watch-L.A.
Showing Up for Racial Justice, San Diego
Stop Tribal Genocide
Students for Justice in Palestine, San Diego
Students for Justice in Palestine @ UCSD
The Coalition to Free Mumia Abu Jamal and All Political Prisoners
The Freedom Socialist Party
Transfronterizx Alliance Student Organization (TASO) UCLA
UMAS y MEXA de CU Boulder
Union Del Barrio
Union de Vecinos
Undocutravelers
Uaptsd San Diego Copwatch
Veterans for Peace, San Diego
Veterans for Peace, Chapter 72 Portland, OR
Veterans For Peace (national)
Women's Labor Network
Women Occupy San Diego
43 San Diego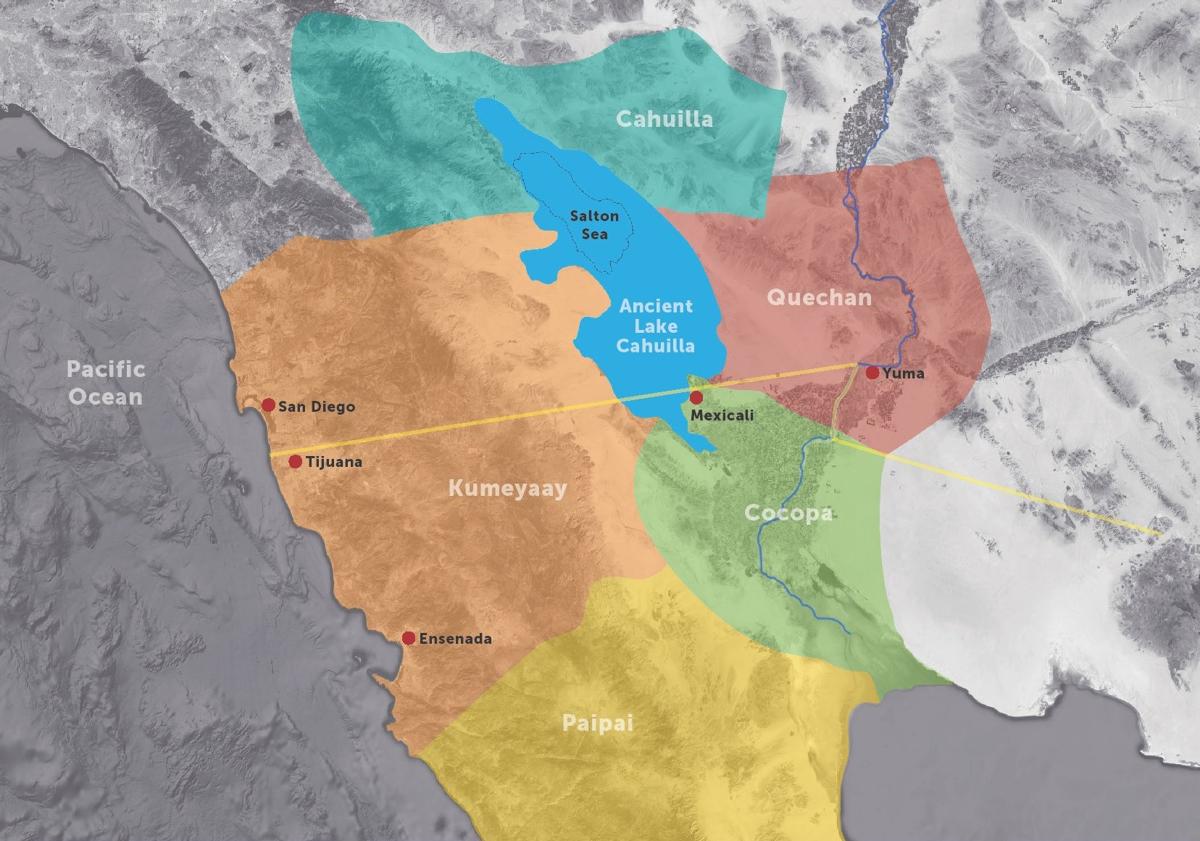 Map: Imperial Valley Press
The current international border between Mexico and the USA actually runs through the middle of the land of the Kumeyaay Nation. No treaty has ever been ratified by the U.S. Senate regarding any land being ceded by the Kumeyaay Nation.